6 reasons to join Interaction Design Foundation to learn UX Design
Dec 23rd, 2022 | 10 min read
My design journey started in 2019 when I created my first website. Having a degree in marketing and nearly 5 years of experience in IT and business at the time, I found it easy to understand the basic principles of how to communicate the services I was designing the website for, but there was something missing in my skillset. I needed to learn about design itself.
First, I visited various UX blogs, watched youtube videos and then completed a course focused on UX Design, which I found very beneficial to my new career of a web designer. However, I still wanted to carry on broadening my knowledge and skills. I strongly believe that education and continuous upskilling is the only way how to design better products and stand out from the crowd of tens of thousands of designers worldwide, so started to look for a platform where I could master my design skills long-term.
That was when I found Interaction Design Foundation (IxDF), a well-established design school that met all of my requirements. IxDF has become one of my main sources of knowledge, helping me improve my skills and my mindset as a designer.
Founded in 2002, Interaction Design Foundation is the market leader in online education specializing in design. The platform offers UX courses taught by industry experts and professors in user experience design, design thinking, HCI, user research, accessibility and many more related topics. They also have dozens of Master Classes and open-source literature, especially UX encyclopedias.
One of the founders is Don Norman, who is a well-known professor, researcher, director of The Design Lab, and co-founder of the famous Nielsen Norman Group. He is also the author of books on design, e.g. The Design of Everyday Things. 
IxDF offers 35 courses that are divided by design specialization and advancing levels. The excellent navigation in the UX courses section helps new learners to easily choose the one that matches their interests and the level they are at.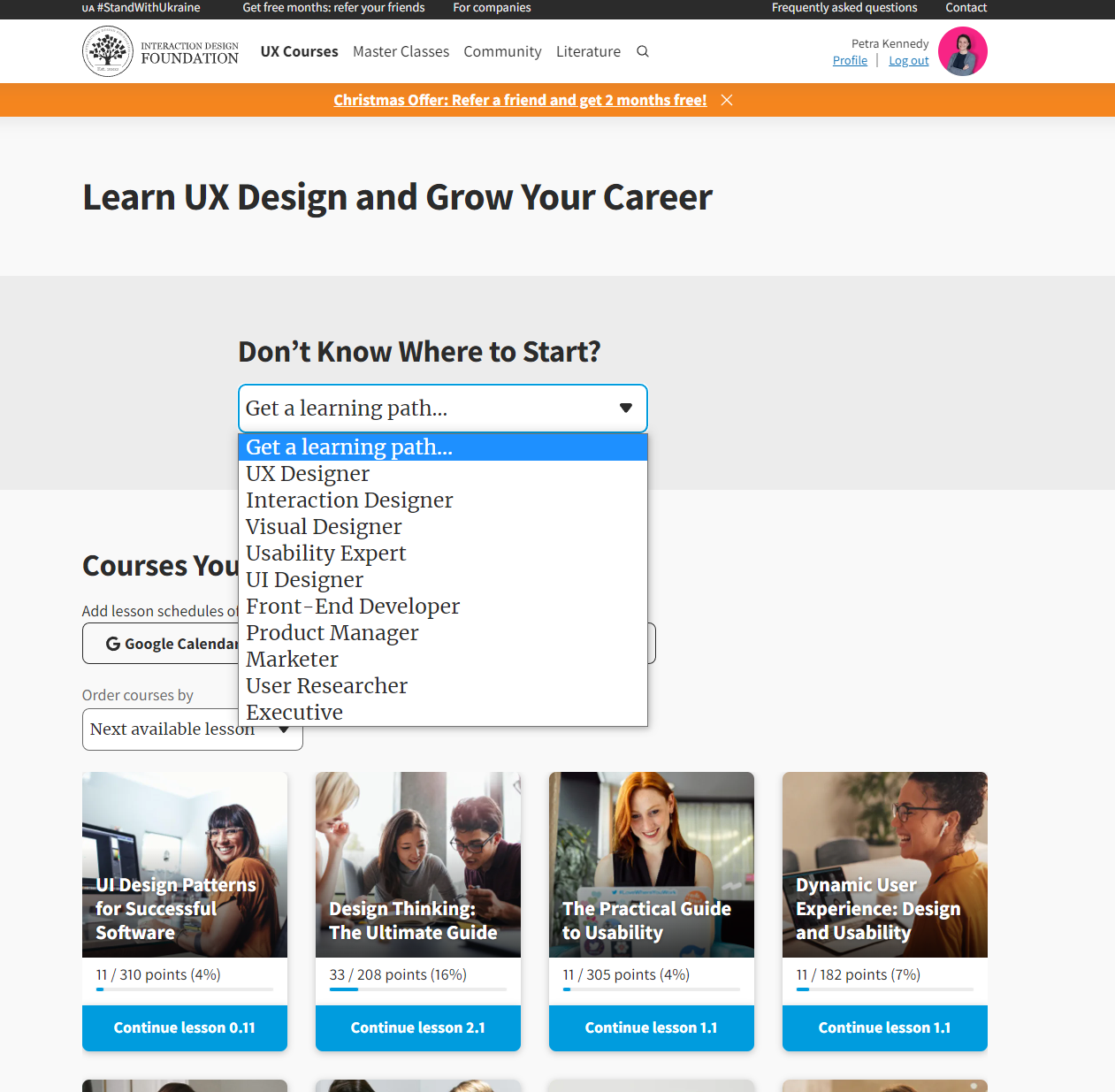 Choosing a learning path for learning UX Design at IxDF | © Interaction Design Foundation
After selecting a specialization, corresponding courses are displayed from beginners to advanced designers. Courses can be chosen according to the learner's level or interest in a topic, because courses from higher levels are not conditional on completing courses from lower levels.
According to my experience, it is probably better to follow the courses recommended at each level. The advanced courses are not easy and in order to understand and seriously learn from them, it is better to have the basic knowledge first. 
All courses are self-paced with no deadlines, which I love because I can learn whenever it suits my busy schedule, without being stressed about completing on time.
After signing up for the course, some of the lessons are open and others are available later, usually 1-2 weeks. This gives students time to take in the information from the lesson and can look forward to the next lesson in a few days. Honestly, this is one of the few things that does not really work for me personally. When I study, I am able to concentrate for quite a long time, so I prefer to complete several lessons at once. I solve this issue simply by signing up for the course and starting my actual learning when all the lessons are open.
On the left side of the screen is the course navigation, which also works great on a mobile screen, where I take most of the courses. I also use the navigation when I want to go back to a lesson after some time but don't want to go through the entire course again. Thanks to good lesson titles, I can find what I'm looking for pretty quickly.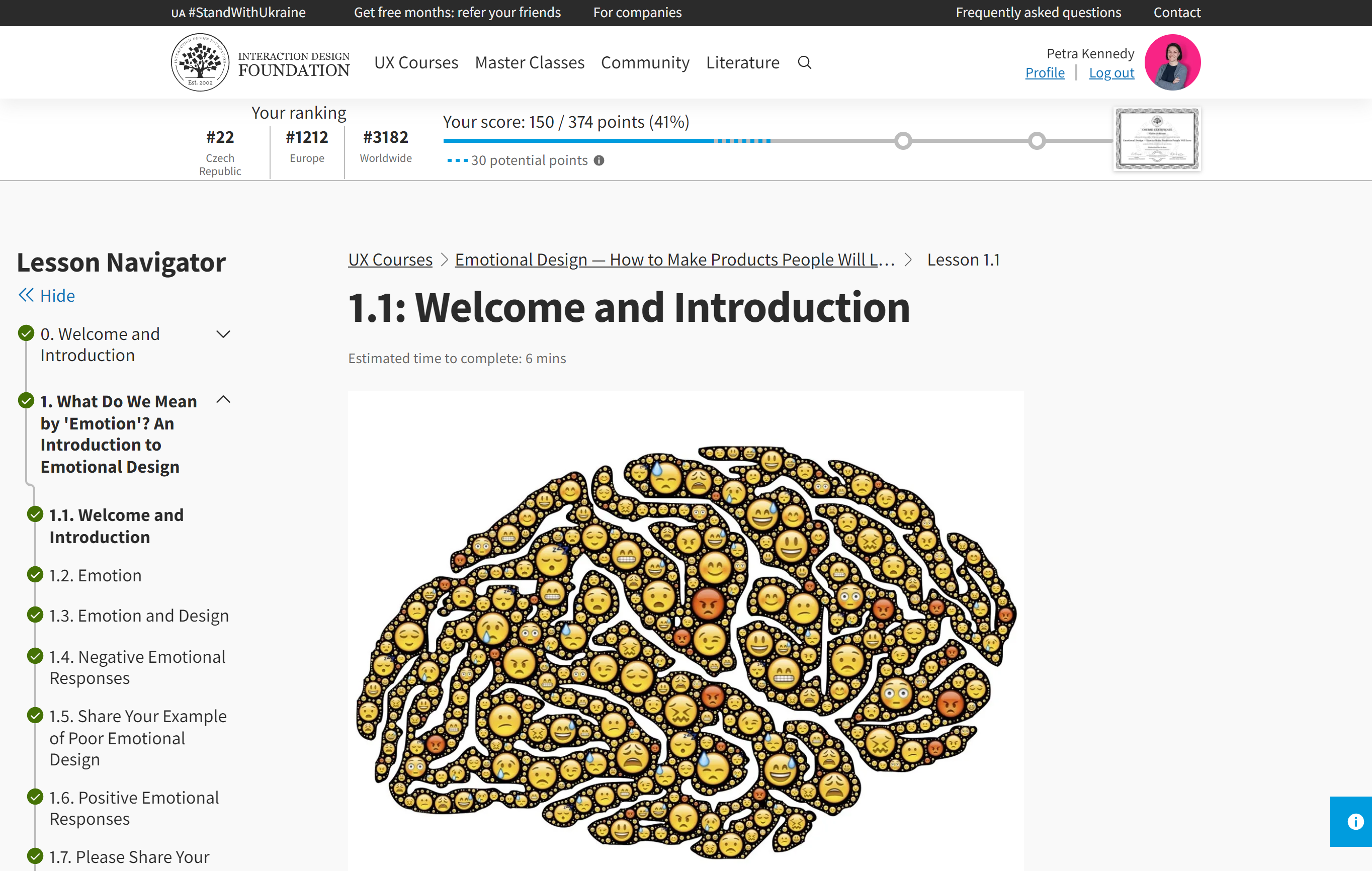 Course structure and scores for learners | © Interaction Design Foundation
Each course is divided into lessons and sub lessons. Courses usually have 5 to 12 lessons and sub-lessons that contain a combination of videos and text, ending with multiple-choice or open-ended questions. These are evaluated with points that are added to the upper blue bar, which shows the course progress. Open-ended questions are graded by the instructor, so it can take a few days to receive the scores. Until then, part of the progress bar stays dotted, which indicates the potential points the student can get for their answer(s).
The progress bar is quite motivating, because it indicates how many points are needed to successfully complete the course (70%), or to win a distinction (90% for Top 10% Course Taker, 100% for Best in Class). It's such a great way to keep track of the course progress and look forward to a new certificate.
After completing all the lessons and answering the questions, students are able to generate a certificate that they can show off on LinkedIn or in their CV. Some of my own certificates are shown below.
Another great learning resource offered by the Interaction Design Foundation are the Master Classes. These are divided into Live and On-demand classes. Master Classes are led by experts in the field who share their experience and insights on the given topic. Each Master Class has a good description and a short introduction of the speaker. Master Class cost €50 each, but for members it's €5, and they last 45 to 60 mins.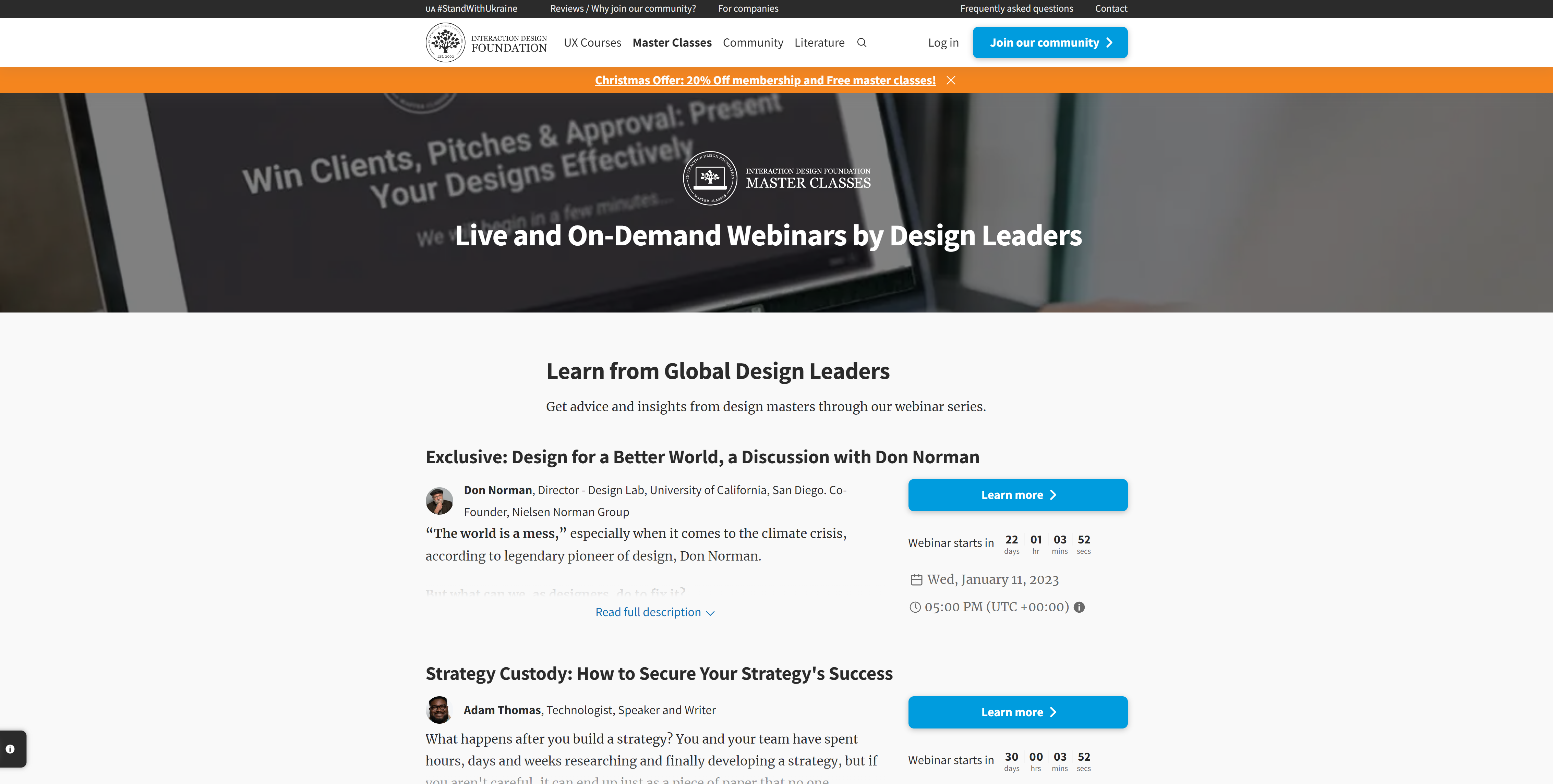 Live Master Classes at IxDF | © Interaction Design Foundation
The first part of the page lists Live classes for which students can register and watch them at the scheduled time. In live sessions, participants can ask questions and the speaker will answer at the end.
The On-demand classes can be found lower on the Classes page – and they are great! There are 40+ sessions divided by category (UX methods, UX management, UX psychology, UX research and many more) available immediately after paying the appropriate fee.
On-demand Master Classes at IxDF | © Interaction Design Foundation
I haven't participated yet in live sessions, because the on-demand classes suit my schedule better. I can choose a topic that interests me at the time and I always learn a lot of valuable information that will help me solve a problem or expand my perspective on the subject.
A nice bonus is that for each Master Class a certificate is displayed in the student's profile and downloadable, so it can be added to a CV or LinkedIn as well.
My favourite IxDF instructors
At IxDF, I mainly take courses and watch Master Classes. To date, I have altogheter about 15 of them completed and I am working on another 16 courses. During my time with IxDF, I have gotten to know a lot of the instructors, and I would say that each of them is a little different. I often choose courses according to who they are presented by. Let me introduce my 3 favorite teachers.
Frank is a super experienced UX genius in many areas of UX Design. I appreciate Frank for always giving a comprehensive explanation of UX problems. I also like that his lessons are supported by research data, and often discussed with other experts that he invites to his courses.
Frank's lessons are longer, more profound, and always supplemented by practical arguments for reasoning design.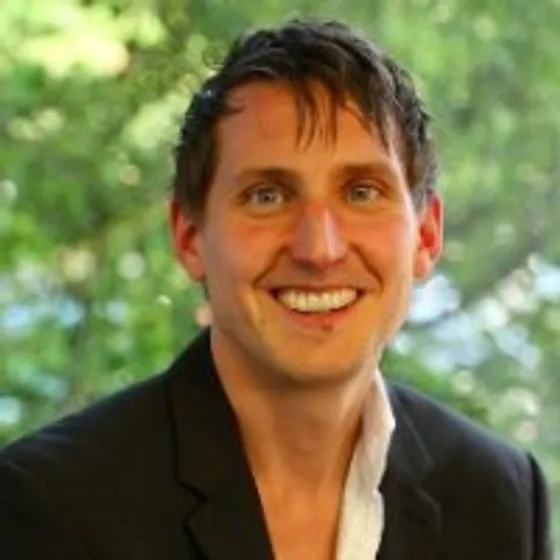 Frank Spillers
© Interaction Design Foundation
Alan is an expert in HCI with a huge overlap with other disciplines. His superpower is the ability to explain any topic in an understandable and extremely engaging way. What I love about Alan is that he is very human and understands the problems that designers face.
Alan provides many real-life examples and shares his own experience, and is always speaking with smiley eyes.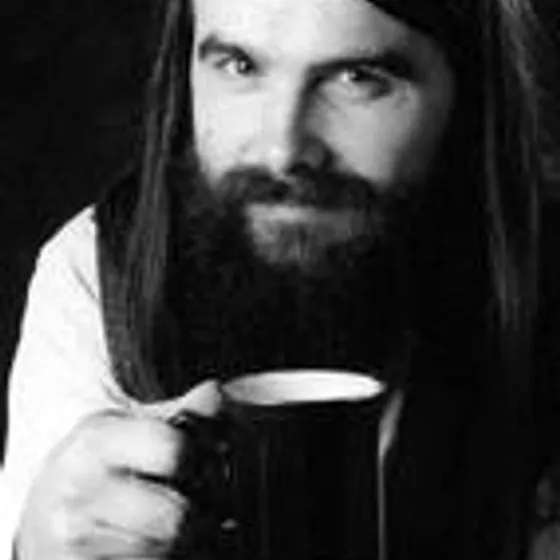 Alan Dix
© Interaction Design Foundation
Laura has a combination of qualities that few people have. She is a true expert with sharp opinions and … she is incredibly funny. Laura specializes in Agile and helped me get a clearer idea about what Agile is, what it should be, and how UX Design fits into this concept (or not).
Laura's lessons are uniquely entertaining and intense at the same time, which makes learning from her an extraordinary experience.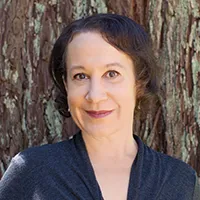 Laura Klein
© Interaction Design Foundation
My 6 reasons to join IxDF
Interaction Design Foundation is an excellent design school, providing wide and deep learning resources for designers. The website is easy to navigate even for newcomers, helping them choose suitable courses matching their level of expertise and interests. The courses are also well-structured, enjoyable and super-helpful for career and personal development.
I personally value the opportunity for self-paced study and choose courses that specifically match my career goals and learning needs. Learning from UX experts is one of the best benefits, and I'm proud to be part of a community of great people with hardworking management that really care about the quality of the courses and the practicality of the education they provide for its members.
Comprehensive courses
35 courses for beginners, intermediate and advanced designers.
Enjoyable learning
The courses are motivating, bring joy and professional growth.
Variety of information sources
IxDF offers encyclopedias, courses, master classes and many opportunities for discussions within the community.
Amazing instructors
The courses are taught by world-leading, industry-recognized experts and professors.
Reasonable price
IxDF is probably the only school offering unlimited access to 35 courses for €144 (yearly membership).
Recognized certificates
After each course, an industry-recognized certificate is available with a possible distinction.
Is Interaction Design Foundation worth it? Definitely!
Continuous improvement and education is something that every designer should be considering, no matter the level they are at. Choosing a design school that keeps them motivated and where they like to come back to, is a long-term win.
I understand that IxDF courses can seem expensive for some people, but I would recommend considering what an educational platform brings more than the price of membership. As for IxDF, the price of under €150 (there are also discounts available sometimes) is a great deal for unlimited access to well-structured courses and other resources.
Let's do a little maths: If you pay the membership fee of €144 and manage to finish half of the available courses, let's say 17, the price of one course is now about €8.40. Considering the quality of the courses, content, and expert instructors you will learn from, that price that cannot really be beaten by any other platform.
If you are a designer wondering if investing in IxDF membership is worth it, then don't hesitate for a minute. IxDF will give you wide opportunities to improve your knowledge, discuss anything with a wonderful community of like-minded people, and take your design skills to the next level.
Note: this article is an honest review of Interaction Design Foundation and contains no affiliate links in its text. If you want to use my referral link that will add a couple of extra months to both your and my subscription after your registration (when the offer is on), click here.